I'd love to introduce you to my beautifully cuddly little daughter, Fern. 
After a couple of years of heartbreaking infertility my husband Phil & went through IVF to have our son Ben in 2017 (which you can read about here). That was super demanding emotionally for us both and physically really demanding for me (not so much for Phil, you can guess what minimal physical involvement he had to have! Haha). 
We were lucky enough to have some embryos frozen then, and the plan was to use one to try to have a sibling for Ben when the time felt right. Well, having Ben was itself really physically demanding as any parents reading know. And after nearly a year I was just beginning to think about when to book in with the clinic (and not much looking forward to the process). It was hard to decide the 'perfect' timing, as it felt really weird to be making the decision at all. 
When Ben was due to turn 1 we booked to go on holiday for a week to sunny Ibiza (no we didn't go clubbing!! There's actually really nice family-friendly parts to the island). Life felt like it was getting more manageable after the chaos of the first year. And as I'd just stopped breastfeeding I was enjoying the red wine.
But while we were there.. this happened: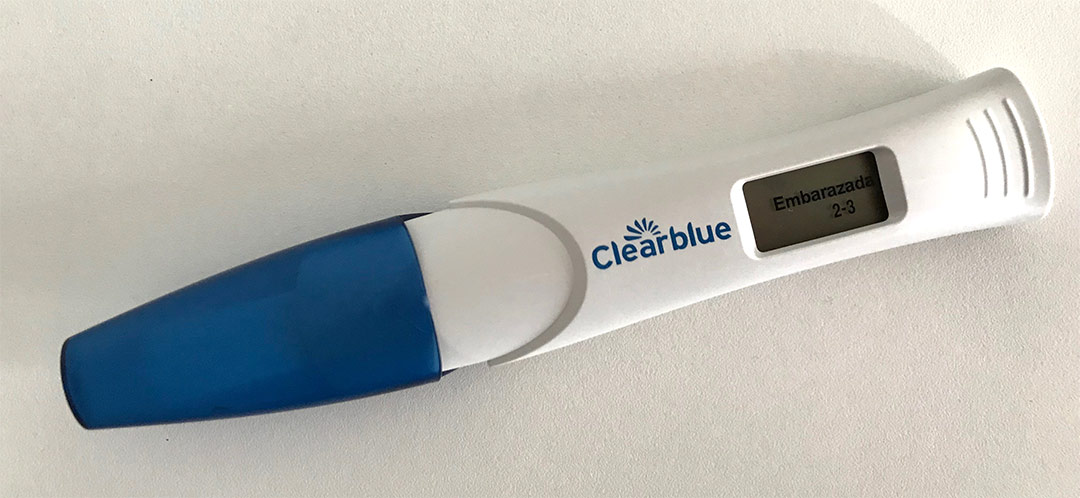 Yes, that's "pregnant" in Spanish!  We had to double check we'd translated that properly. No IVF.  It felt like a dream. And a miracle. And a total blessing (except for the fact that my red wine drinking had to stop!).  I'd heard of this happening to people before, but it was the sort of thing I thought happened to other people only.
The pregnancy itself felt horrible, much like the last one. I felt ill the whole time, with bad morning sickness followed by constant stuffy nose and frequent colds, gestational diabetes and an alarming racing pulse. I wasn't surprised to read last week that pregnancy pushes us to the edge of our physical limits! 
But it's been worth it and now, thank goodness, our family is complete (I CANNOT go through pregnancy again!). Ben's adjusting to having his little sister around and looking forward to playing with her when she's old enough. 
2 under 2 is FULL ON, and I need to work out how to fit more hours into the day, or how to exist on even less sleep so I can do some painting too!